The baby cuddlers: For a sick baby, these volunteers know there's no better medicine than the human touch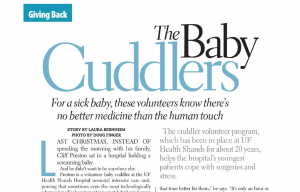 Last Christmas, instead of spending the morning with his family, Cliff Preston sat in a hospital holding a screaming baby.
And he didn't want to be anywhere else.
Preston is a volunteer baby cuddler at the UF Health Shands Hospital neonatal intensive care unit, proving that sometimes even the most technologically advanced medical equipment is no match for basic human contact.
Programs & skills:
Google Drive
Interviewing
Writing
Editing